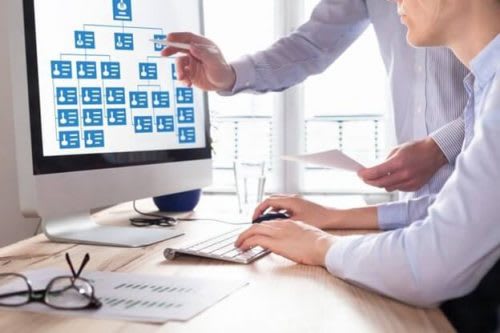 Many students may consider a master's degree to be their path to a higher salary and leadership positions. But while these potential benefits make a master's degree appealing, students also want some assurance that their time and effort will be worthwhile when they start to look for a secure job. While some degrees carry more real-world applications than others, the Master of Science in Applied Psychology (MAPP) degree with an emphasis on organizational psychology can prepare students to apply their knowledge across a wide spectrum of careers.
What Is Organizational Psychology?
Organizational psychology applies the theories and principles of psychology to organizations of various sizes and types. The goal of this specialized branch of psychology is twofold: While it focuses on boosting productivity, it also works to optimize employees' mental and physical well-being.
Organizational psychology achieves this through an understanding of worker behavior and company evaluation. This strategy can be applied to procedures throughout a business, such as conducting evaluations that find ideal fits for open positions and establishing job performance standards. It can also be applied by studying company culture, how a business is structured and the management styles an organization uses to see if they pose a stumbling block to optimal performance.
What Makes a Master of Science in Applied Psychology Worthwhile?
Typically, an advanced psychology degree, such as a Master of Science in Applied Psychology, is the minimum requirement for a career in organizational psychology, even for entry-level positions. While an undergraduate psychology program may lay the foundational elements for a career in psychology, most undergraduate tracks don't include enough emphasis on organizational psychology to adequately prepare students for the workplace.
How Professionals Use Organizational Psychology
Organizational psychology professionals use the science of psychology to understand and measure human behavior in the workplace. With such an understanding and measurement, these professionals aim to improve employees' satisfaction with their work, enhance the business's ability to hire and retain the most qualified individuals, and support building a better workplace for everyone.
Organizational psychology professionals use their research and knowledge to design training courses, surveys, selection procedures and other tools. Using scientific methods, they advise employers on hiring priorities and candidate selection, and can also help employees achieve a satisfactory work-life balance.
Using the principles of organizational psychology, professionals may also be called on to analyze or resolve a problem within the business. For example, a company's executives may be concerned that their business has a high turnover rate. An organizational psychology professional might carry out a survey, interview employees or implement other research strategies to ascertain the cause of the turnover rate. Causes may have something to do with employee dissatisfaction, issues with the company's leadership dynamic, a problem with the workplace environment or another issue.
Pursuing the Degree
The USC Master of Science in Applied Psychology degree program provides students with the experience and knowledge to pursue a career in organizational psychology. The course titled Organization Psychology 565, for example, teaches psychological principles and research methodologies that students can later apply in their organizations, thus preparing them to solve a variety of challenges they may meet in today's increasingly complex work environment.
This and other courses in the USC Master of Science in Applied Psychology program give students the opportunity to apply their interest in psychology in a variety of work settings. By understanding human behavior, how to resolve team conflicts, promote leadership and communicate effectively, students can take their knowledge into a field or business that satisfies their passions.
Real-World Applications of Organizational Psychology
Virtually any business in any field can benefit from organizational psychology. Graduates in this field may find themselves working in major corporations in almost any industry, including entertainment, manufacturing, health care or nonprofits. Within those fields, they may assess leadership, develop training programs, participate in management decisions that affect the workforce, analyze workplace culture or strive to improve diversity in the organization. Here are just some of the real-world career options in organizational psychology.
1. Organizational Consultant (Internal or External)
Many organizations trust organizational psychology professionals as consultants when making significant decisions that can influence the future of the organization and its employees. Organizational consultants work with leadership to improve employees' work environments and boost the organization's overall performance. According to the compensation website PayScale, the median annual salary for an organizational consultant as of November 2021 was around $89,000.
2. Talent Management Specialist
These specialists use research in leadership skills to develop and carry out strategies that prepare employees to be effective leaders. The talent management specialist may also help certain employees cultivate specific skills that meet the business's needs. To accomplish this, the specialist must know the skills and capabilities of employees in the business. The median annual salary for a talent management specialist is approximately $92,500, according to November 2021 data from PayScale.
3. Employee Training and Development Manager
This position focuses on developing and implementing employee training programs in an organization, usually in some form of classroom setting. Trainers work with company management to decide what should be included in the training curriculum so employees can meet the company's needs. According to PayScale, the median annual salary for an employee training and development manager as of November 2021 was roughly $78,700.
4. Organizational Development and Effectiveness Director
This position requires psychology professionals to work with company leadership to satisfy the organization's needs relating to organizational development. The job may involve participating in team building, encouraging effective goal setting, improving group processes and developing employee surveys that can identify areas of improvement. According to PayScale, the median annual salary for an organizational development and effectiveness director as of November 2021 was around $118,900.
5. People Analyst
These professionals analyze and report on a spectrum of workforce data to provide the facts necessary to make informed business decisions. They may work in areas such as training and development, employment selection and placement, leadership, retention and work-life quality. Management analysts, including people analysts, make an average median salary of $93,000 as of 2021, according to the U.S. Bureau of Labor Statistics.
6. Human Resources Manager
Graduates interested in working closely with employees may enjoy working as HR managers. These managers act as leaders in developing talent, improving diversity, managing performance and applying change management. An HR manager may also coach and develop opportunities for business leadership. According to PayScale, the median annual salary for human resources managers as of December 2021 was around $69,200.
An effective recruitment strategy should not only align with workforce plans, but also attract top performers to a job vacancy. Professionals specializing in talent acquisition are in demand in many industries.
Organizational Psychology and Positive Company Culture
Students who complete an online Master of Science in Applied Psychology degree from USC can obtain the tools and skills to make a difference in the workplace. Graduates who pursue a career in organizational psychology may not only be able to improve the businesses in which they work, but also the quality of life of their colleagues and employees.
Embark on the next chapter in your career with USC today.
Recommended Readings
Change and Organizational Adaptability: Three Challenges
How Does Consumer Psychology Influence User Experience?
Sources:
PayScale, Average Organizational Development Consultant Salary
PayScale, Average Organizational Development Director Salary
PayScale, Average Human Resources (HR) Manager Salary
PayScale, Average Talent Acquisition Coordinator Hourly Pay
PayScale, Average Talent Management Manager Salary
PayScale, Average Training & Development Manager Salary
PayScale, Average Workforce Analyst Salary